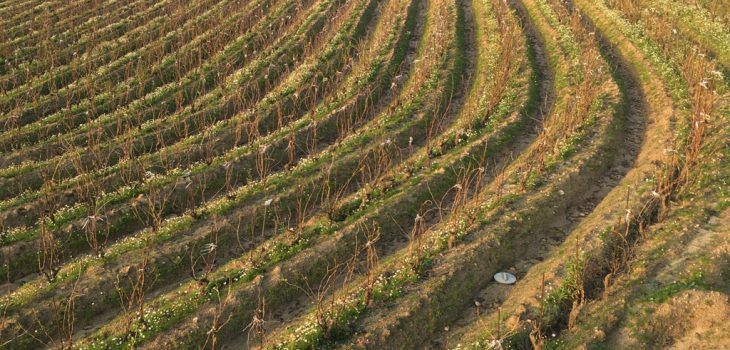 INSPIRATION
By now I have lost my hopes of finding flat roads. From Ortueri to Neoneli the road is mostly uphill. And then, even if I take a nice descent towards a valley, I always see the road that goes up, always a bitter sweet descent!
But slowly I approach the edge of this elevated territory and the view on the Abbasanta plain is magnificent.
I arrive at the Town Hall where the Mayor Salvatore is waiting for me. And the reception is first of all cultural: I am given books written by various authors, novels based in Neoneli, and then books on Neoneli, and even records of Christmas music, all published by the Council and collected in a very beautiful tote bag made from waste materials. Once a year they hold a literature festival called Lìcanias.
I do not have time to recover from this pleasant surprise, that immediately after the coffee at the bar, coming out, I hear a gentleman singing with a beautiful voice. We approach him. It's Alberto Zucca, former first voice of the legendary Tenores di Neoneli group, who delight me with a Nuorese song and tells me how as a young man he listened to the elderly singing for hours and hours, learning the art of singing 'a tenores'.
Before lunch, I take a walk in the historic center. Almost all the houses are of pink trachyte, the predominant stone of this area, as in Ortueri, although granite can still be seen. Old houses are kept very well, some more shabby, giving these little streets a certain charm.
In the afternoon Salvatore brings me to see the countryside around the village. First the vineyards. Here too, the year was tremendous because of the rains, but despite everything they managed to produce wine, mainly a mix of different types of vines.
Pushing us a little further inland, granite begins to return. We arrive to the Àssai oasis, a natural park where there are a large variety of animals in freedom. We see some deers, even if there are also wild boars, wild cats and other species that we do not meet. The wood is wonderful, especially now that it begins to darken, the colors, the sounds of small streams of water, the smell of the undergrowth, the granites scattered here and there from the most unlikely forms.
We return to the village and I have just enough time to rearrange the ideas and the material before dinner. And what a dinner!
SOUND FRAGMENTS
Sung in the street by Alberto Zucca, on which I overlay the bass ukulele.
SARDINIAN SHORT STORIES
Salvatore brings me for dinner to some friends'. Andrea and his partner bought an old dilapidated house in the historic center and renovated it. Walls and vaults of ancient stone in sight, unusually divided environments make this place unique. They live in Switzerland and come back here on vacation. At dinner today we are many, adults, teens and children. I am already tired and I wonder how much I will hold before falling asleep. From the aperitif, a cocktail of prosecco and prickly figs, I realize that it will not be a typically Sardinian dinner … beans, anchovies, ham, so far so good, but when Andrea pulls out of an envelope three white truffles from Alba that fill the environment of a very strong and intoxicating smell, I understand that it will be a special dinner. And not just for food.
The aperitif conversation is about the Neoneli vineyards. Of their value, of the fact that outside investors would like to rent them to produce wine. It is feared that they also want to buy them. There are those who want to be cautious, those who are happy with this opportunity, the spirits are warming, the tone of voice increases and in the euphoria of the discussion a glass is broken . I understand that here there are people who really care about their territory!
At dinner everything is covered with flakes of white truffle, eggs in a pan, melted cheese. All washed down with champagne and strictly French wines. The discussion on the vines has stopped, we touch on a very sensitive topic in these parts: the recent murder in a neighbouring village of a student by a group of classmates. While among the youngest at the dinner there are those who say that the guilty must be punished exemplarily, a wiser invitee explains in very simple terms, starting from the history of the Italian Constitution, how these boys should be made to understand the extent of the damage committed, but also be given a chance to rebuild a life.
We are at the desserts. Cheesecake and coconut treats. And then coffee and ammazzacaffè all strictly Swiss and German. A discussion opens on the difference between beer and cider. And then we talk again about the local vineyards, work abroad, the Sardinian boys who leave, those who remain, those who do not want to work, and those who have ambition and become excellence, like Andrea, who from Neoneli, passing through being a waiter around the world, he is now manager of one of the most prestigious hotels in the world in Switzerland. Who would have thought to spend an evening like this in the center of Sardinia?