INSPIRATION
Today's sky is not promising. I set off early for the twenty kilometers that separate me from Poggio dei Pini, the hamlet of Capoterra where I will be a guest, for the first time of my family, at my cousin Marco's place, and my uncles Carmen and Alessandro's. I pass the Saras refinery, stop at Villa D'Orri, still in the territory of Sarroch, summer Royal Residence of the Italian king, which unfortunately is closed to visits, and I continue along the state highway, which I want to avoid, seen the traffic of heavy vehicles .
I decide to try an 'alternative' route, first cycling on the section under construction of the new 4-lane road, which after a while turns out to be impossible due to too many interruptions. So I enter a country road that goes into the mountains. Google Maps suggests to me a road that however needs to cross the Rio San Girolamo ford. Meanwhile it starts to rain. The road becomes increasingly rough and stony. As soon as I get to the river I realise that the ford is impossible. I go ahead and find another ford. This time I can go with my feet in the fast flowing water and the bike between the rocks, and what awaits me afterwards is a nightmare: a stony path that climbs steeply. I decide to continue dragging the heavy bike (impossible to ride) meter by meter, in the pouring rain. It takes almost an hour to complete the road, up to the astronomical observatory of Poggio dei Pini. From there, all descent to my uncle's house.
Here I am joined by Leonardo, whom I have already found at the secondary school of Villa San Pietro, and who is here at Capoterra as director of the Scuola Civica di Musica. Together we go to the Town Hall, where we are received by the Mayor Francesco. After having given me a book written by him, he tells me a bit about this complicated to manage municipal territory, for the presence of several hamlets that have now become real villages, one is Poggio dei Pini, and then many others, Su Spantu, Frutti d'Oro, Residenza del Sole, Rio San Girolamo and some more. The other theme we touch is that of the management of floods that in recent decades have scourged this territory. Torrents that after only a few hours of heavy rainfall turn into rivers that carry stones, branches and overwhelm with devastating force all they encounter, overflowing in the surrounding land. Roads and houses devastated, fields and crops destroyed, emergencies to be managed and decisions to be taken at critical moments. Certainly not easy for Francesco.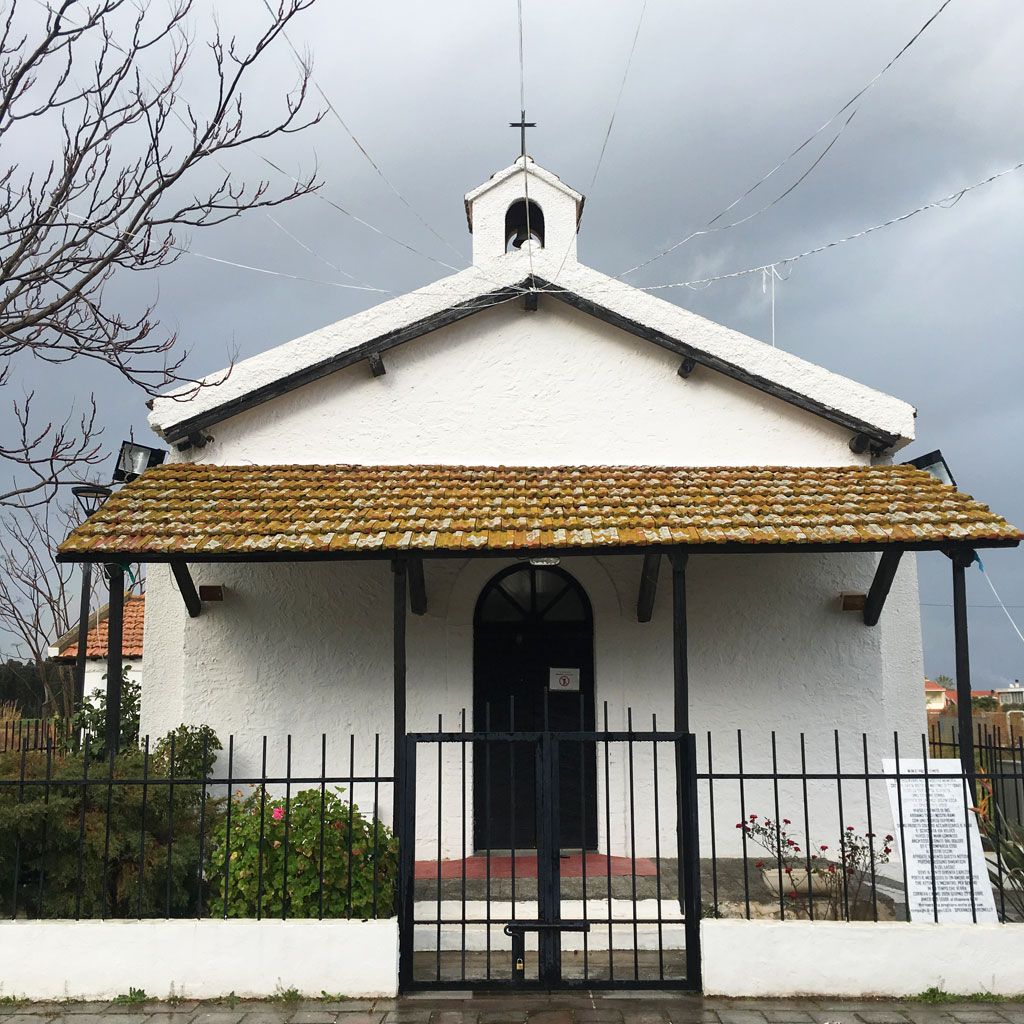 After lunch Leonardo takes me to see the reality he has created, the Civic School of Music, just re-painted inside, smells new, spacious rooms, a central entrance hall with a functional stage at the back for student concerts. Leonardo explains the enlargement project to build a real theater for bigger shows.
Immediately afterwards, always in the pouring rain, we head towards Su Loi, on the coast. We pass by San Girolamo, where Leonardo shows me the signs of the recent flood … just this morning I crossed the Rio San Girolamo that looked like a small torrent! We arrive at Su Loi and stop at the church of Sant'Efisio. Not far we visit the Casa Spadaccino, a beautiful structure where Giovanna tells us the story of the Spadaccino-Cardile family and their farm. In the various rooms are held various educational activities, including dance and yoga classes in the beautiful attic. Not far away, almost by the sea, is the tower of Su Loi, whose profile has been included in the logo of the Civic School of Music.
Before taking me back home to my family's, Leonardo brings me to know a beautiful artistic reality at Poggio dei Pini, the Piccolo Teatro dei Ciliegi. Here I am welcomed by the actor Francesco, who, together with the founder Susanna, now absent, regularly puts on theatrical performances. Together with Leonardo they tell me about a show called 1.80 … referring to the height in meters that the water reached during the last flood inside Francesco's house. A show certainly dramatic and with food for thought, with music written and played by Leonardo himself, a fine trumpet player.
The day ends with a family reunion, mum, brother, nephew, sister, uncles and my centenarian grandmother (who does not know anything about this project!) Tea with biscuits and chatter family!
SOUND FRAGMENTS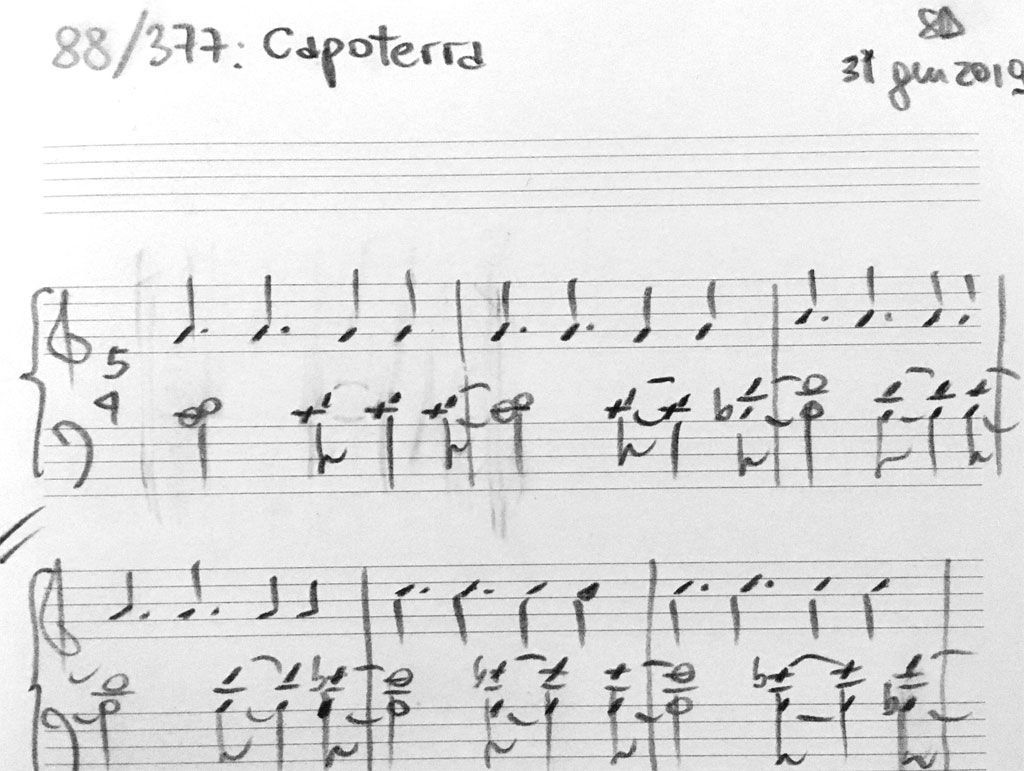 SHORT SARDINIAN STORIES
Capoterra is the only town that has two churches dedicated to Sant'Efisio. One is in the center, in a nice square containing a beautiful mural that I can photograph in spite of the rain, and the other is that of Su Loi which I saw in the afternoon. Right here the saint in a procession from Cagliari to the church of Nora stops for a night. In 2015, the 'Sant'Efisio Way' was officially established, the route from Cagliari to Pula, which crosses the towns of Capoterra, Sarroch and Villa San Pietro. This is walked by the faithful during the 4 days dedicated to the procession of the saint, but it can also be done independently of it, to know the cultural, artistic, environmental and natural heritage of this area. And the Sardinian ways increase …