INSPIRATION
I travel the road from Cabras to Oristano almost all on the bike path. Long last! Sign that I'm approaching a big city. After a large roundabout I cross the bridge on the river Tirso and slowly get inside of Oristano following a somewhat tortuous path between one way systems and traffic lights.
Despite the greatness of this Municipality, I do not have the feeling of entering a metropolis like I had approaching Ghilarza from the villages of Lake Omodeo, perhaps because I already knew Oristano and its dimensions were already established by my mental and physical experience of it.
Here I take the opportunity to meet relatives and friends and to spend a 'normal' day on the tour. I meet Roberto (my father's third cousin) with Maria Ausiia who will host me for the day. Roberto is a cyclist, he has already joined me on some stage of my tour and we have also cycled together between Tramatza and San Vero Milis. I meet Gianfranco, Roberto's brother who had come to meet me at Zeddiani, and I met a new relative, their cousin Bianca. The genealogical research and the interweaving of meetings of this tour keep developing.
In the afternoon we take a walk downtown. The beautiful tower of Mariano II, the central piazza Eleonora, the cathedral, the church of San Francesco where I see the Christ of Nicodemus, a beautiful 14th century wooden sculpture with a very particular expression.
Returning to Piazza Eleonora I meet some friends, Alberto Cherchi, here known to all as Dudo, and double bass player Antonio Farris, with whom we discuss the current musical situation in the area.
The morning before leaving again Maria Grazia, another relative on the side of my grandmother Satta (but I'm not sure how, I'll have to find out!) invites me to present the project to the elementary school where her daughter Francesca studies. Armed with bike and ukulele, I present the project to the third and fifth classes, and after an interview on the fly for the Link Oristano site, I leave in a hurry for the next town, Santa Giusta.
PS there will be a short visit to Oristano on the day of Palmas Arborea, to visit the beautiful diocesan museum, containing two contemporary art exhibitions. The re-meetings also take place among 377 municipalities!
SOUND FRAGMENTS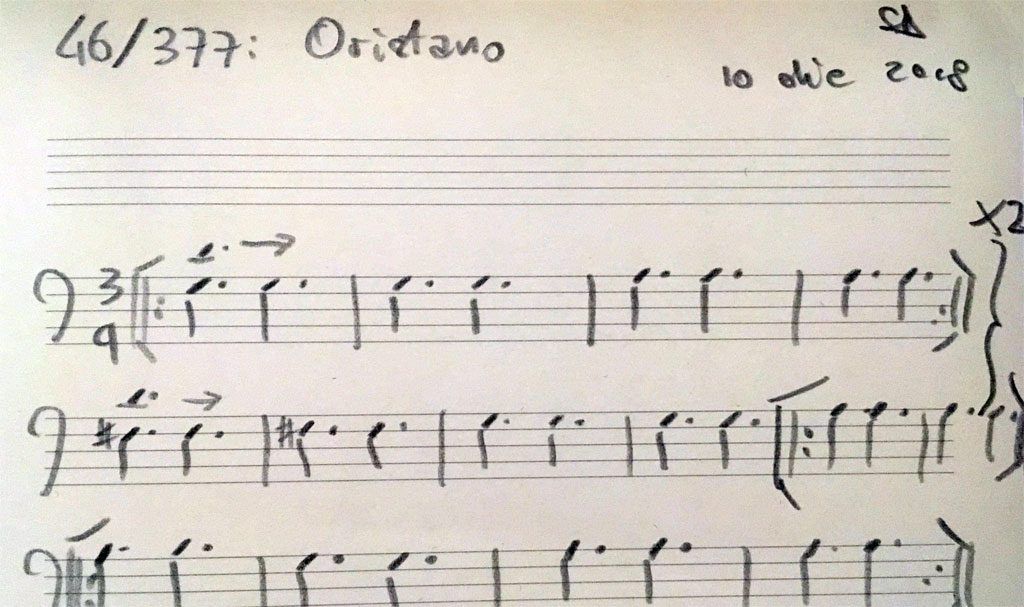 SARDINIAN SHORT STORIES
Dudo is certainly one of the most eclectic characters I know. He owns a grocery store downtown, plays jazz piano, is a good photographer, a good fisherman, but above all he has brilliant ideas, like that of Tutzky puppet. The story of Tutzky is singular. A music lover, Alberto is in possession of a very rare jazz record. Exchanging news on an online forum, Dudo decides to make a copy of the record to one of the forum members, who accepts it with great gratitude. A few days later, to return the courtesy, Tutzky, a white figure created by the wife of the recipient of the album, is sent to Dudo, who accepts it with paternal affection, to the point of making him the protagonist of a series of thematic photographs. Tutzky has made me laugh for several years in his everyday life situations. Finally, today I got to know him. Dudo arrives in Piazza Eleonora and pulls out the puppet. He places it in the flower bed, above a stone seed sculpture by Pinuccio Sciola, and takes several minutes to put it in pose holding a miniature guitar. As soon as I'm ready, I take out my ukulele and take a jam session with Tutzky!