INSPIRATION
Today is a cloudy and sultry day. I go downhill along the road that leads me to Lake Cuga, which I coast for a while, before cycling about a kilometer on a stretch of road already covered to go from Olmedo to Uri. From the crossroad onwards, a massive uphill towards Putifigari awaits me. Just before entering the town I notice a cycle path, I try to take it but as soon as I see its slope I opt to continue on the normal road!
I arrive at the beautiful Boyl Square. Boyl was an important surname, since it was Don Pedro Boyl who acquired this fief from the Aragonese in the fourteenth century, and then in the eighteenth century the Marquis Boyl and his descendants gave this small village a vital impetus.
Councilors Felle and Salvatore, with Barore, who has been following my journey for a long time, and Cinzia, a tour guide, are all waiting for me at the Town Hall. I leave bike and luggage at my accommodation and we head to the Boyl cafe for a coffee. We are ready to go and visit one of the most beautiful attractions of this area, if not all of Sardinia. At the cafe there is a French tourist couple with a little girl. They are guests of some inhabitants here and we invite them to come with us. Direction the necropolis of Monte Siseri.
We drive for a while and then we walk through a valley, among yellowed grass and bushes, until we reach a rocky outcrop with a small house built above. It is the entrance to tomb number one, the most beautiful and precious and therefore closed to public access. It is known to everyone as S'Incantu (the wonder), and as soon as we enter, after Cinzia opens the locked door, I understand why.
An anteroom, with a beautiful engraving of taurine protome on one side, leads us into the main hall, which as soon as it is illuminated by the lamps that Cinzia has brought, and by our cell phones, is revealed for what it is: a true wonder! A large space, with stone columns, niches, decorations on the walls and on the ceiling, all dug by hand in the bare rock, and the concentric shape on the ground. We stay here for a while, to enjoy this wonderful work of our ancestors. Even the little French girl is ecstatic about the place.
We go out and go back to the car, crossing the valley, where other domus de janas are pointed at me. As I saw yesterday in Ittiri, this whole area had a very dense concentration of necropolises. We drive through cork oaks and an unusual landscape of volcanic rocks that sprout like islands from the vegetation.
We get to the forestry site of Sos Coroneddos, a very large green area, full of cork oak woods. At the entrance, a group of boy scouts is dismantling the tents after a school camp. From here we continue upwards towards the forest lookout in Pagliaresu. The view is incredible, it extends to Alghero and the sea, but unfortunately the foggy day does not do justice to the magnificence of the view.
Returning to the village, they tell me about the recent opening of a horse trail, which starts from Porto Conte in Alghero, and arrives here, covering a bit of coast and then slowly crossing these countrysides.
In the evening we take a walk to admire the small, well-kept historic center. On Boyl Square the beautiful Town Hall building stands, and opposite the parish church of Signora de S'Ena Frisca. Among other events of this village there is a mycological exhibition which takes place in November, in honor of which, in the center of Putifigari, among the other statues, there are beautiful mushrooms in red trachyte!
We continue the tour among elegant buildings, always decorated with red volcanic stone, wooden portals, "lorighe" (rings used in the old days to secure animals to) in stone, and we arrive at the Auditorium, where the newly elected Mayor Giacomo welcomes me to a meeting with the population, where I tell my journey and I play a little. This time there are young musicians who play something too, and I join them. We end this day in a pizzeria, in a joyful atmosphere, and before saying goodbye, Barore gives me a sheet of paper.
SOUND FRAGMENTS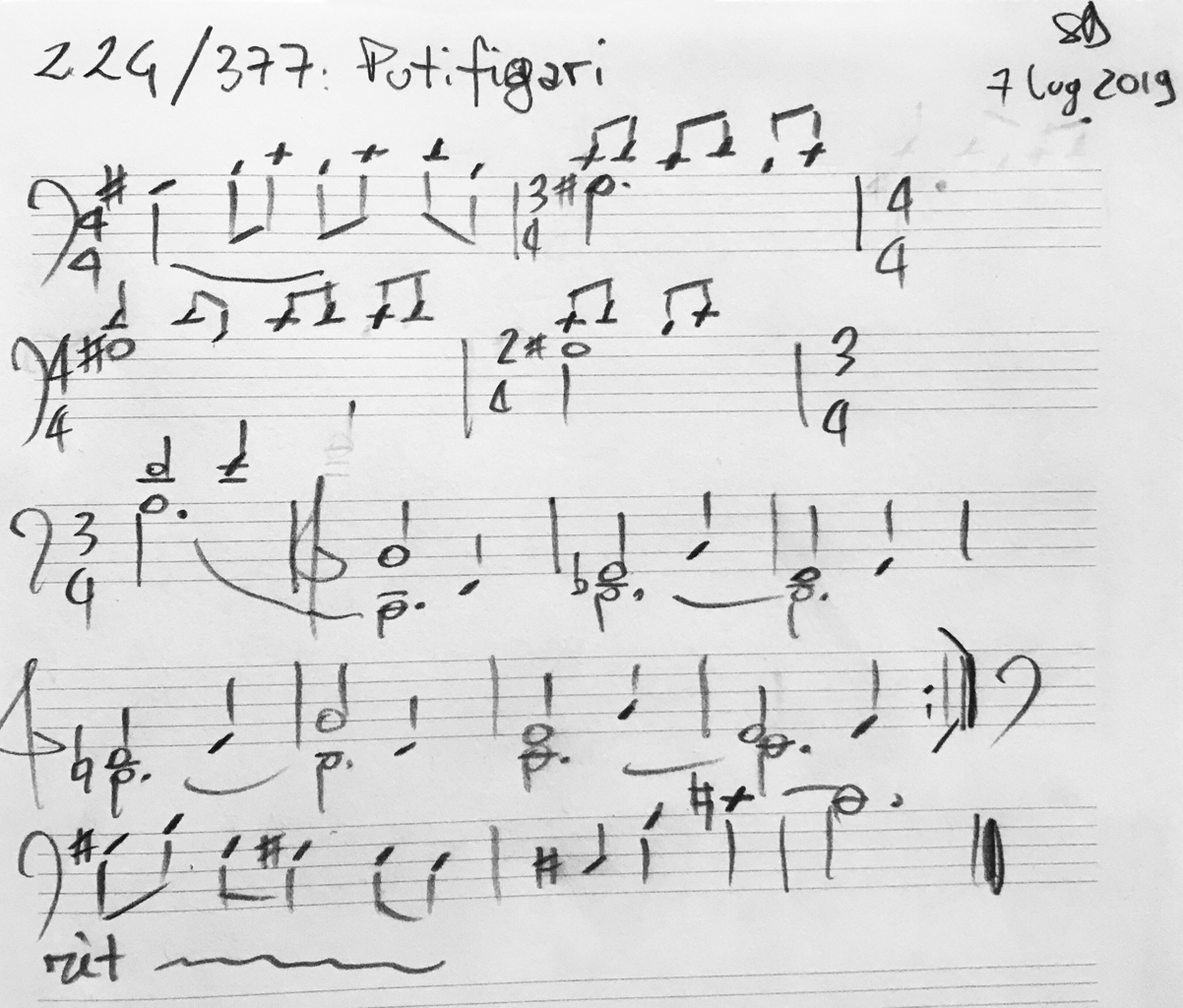 SARDINIAN SHORT STORIES
"Bustianu (Sardinian for Sebastiano)
Run
in the wind
chasing glances,
and hands that intertwine.
Across villages,
fragments of stories,
loves
and dreams.
Freedom.
Rummage
in the drawers of life,
look for values
feelings
to compose harmonious notes.
And finally
you sense
thousands of worlds
they are hidden
behind and beyond
appearances …
… and that also silence
it is sublime
music.
7/7/19 B.P. "