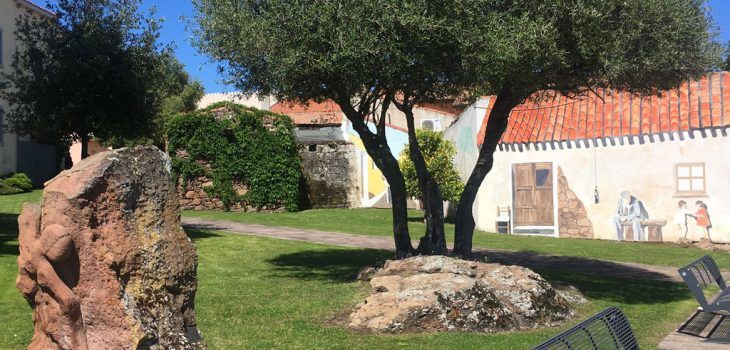 INSPIRATION
The big moment has arrived: I'm at the exact half of the route! 377=188+Erula+188 … how many 8s, four! And today is going to be a rich day! Excitement makes me forget the deadly uphill that awaits me. I must literally climb the mountain, in the direction of the wind turbines, an important element for this municipality, but I hate it because it is synonymous with slaughter for my legs!
I arrive at the Town Hall where the Mayor Marianna, Councilor Omar and the whole municipal administration is waiting for me.  Together, we have been preparing for this special day for some time. After a welcome buffet in the council chamber, we start the tour around the village, just over three hundred inhabitants (maybe 377!), a relatively new Municipality, created on the 8th of August 1988 … 8-8-88…still four 8s!
First stop is at the Municipal Library, where we are greeted by the librarian Silvia who shows us the rooms, and above all the one with a large donation from a former pastor, Don Piero Marras, who left more than 6,000 volumes here, ranging from religious subjects to arts, to Sardinia.
Then we enter Bastiano's House Museum, which has been collecting objects of all types for years and years and exhibits them here, right in the center of the village. Some people are starting to arrive. Today, in fact, I invited a few friends to spend the day in company, with visits to the territory, food, wine and music! First, a part of my family, my sister and my brother with his family, which I haven't seen since Christmas. All together we walk through the clean streets of the town, passing the characteristic corner where a stage of the Time in Jazz festival has been held for some years, and various sculptures scattered throughout the village on the occasion of a sculpture symposium.
Soon after, the members of a choir I invited today to sing in the musical afternoon arrive. We go out of the village to the Nuraghe Ispiene, which we reach through private land and through the prickly pears that form a sort of tunnel. The view from up here is fantastic, and the day is beautiful, it starts to get hot! Here a famous nuragic bronze spaceship was found, now exhibited at the archaeological museum of Cagliari.
We go back to the cars, which now form a small moving queue to discover these territories. We arrive at the country church of San Giuseppe. They tell me a rather grim anecdote. This had always been a bandit area. It is said that in total in this area there were more than three hundred deaths, due to robberies and gunfights, and that some victims were even killed and burned in this church. This was in fact the road that went towards Nuoro, which someone called the road of the crosses. And nearby is a wooded and rocky area called 'El Castillo' with natural caves where bandits took refuge. It seems that Mussolini, to get rid of the bandits, wanted to bombard the whole area!
Returning to the village, we pass in front of Mr. Spanu's home, famous for his pipes, of which former President of Italy Sandro Pertini also owned one. We arrive at the Nuraghe Pubatta where a lunch set up by the Municipality and the Pro Loco is waiting for us.
SOUND FRAGMENTS

SHORT SARDINIAN STORIES
I've always had an obsession with symmetries and numbers. Also in this project. So one day, while I was riding somewhere in Sardinia, I was thinking about the fact that if there had been an event for the opening of the project in Nuoro, with the inaugural concert in Lollove, and if there would be a closing event in Cagliari in December, it would have been nice to mark half of the project with an event. But not too organised. A moment of conviviality, with friends and musicians.
So here we are to improvise an afternoon of music. With artists I knew and with whom I had already collaborated in the past, and with artists I met along my way. The list includes the guitarist Francesco Morittu from Cagliari, a dear old friend, the tenores choir Antoni Milia met in Orosei, the Badus choir in Badesi, the pianist Maurizio Pulina with whom I collaborated more than ten years ago, and the drummer Paoletto Sechi, both from Sassari, accordionist Giovanni Careddu, known in Telti, and many known faces in the audience, but many of whom I met during my trip, Selenita and Gianni from Olbia, Maria Vittoria and Rosa Maria from Ozieri, the latter who, very excited, wants to participate singing alone the verse of a beautiful Sardinian song by Maria Teresa Cau, and then Paola with her parents from Sedini, Marco from Valledoria on a motorcycle, the loyal Mariantonietta from Buddusò, and perhaps others I've forgotten. And the excellent film director Francesco Pirisi who films everything, as he also did in Lollove.
Ancestral music. Myself with my bass ukulele and then finally reunited with my double bass after many months. Singing 'a tenores', millennial, granite chords. Singing 'a tasgja', fluctuating chords. A classical guitar that responds to a tenores song with a Campidanese dance first and then with a song by De Andrè. A jazz trio, double bass, piano and drums playing American standards. An accordion that plays some popular melodies. And then all together for Non Potho Reposare. And as the daylight goes down, and people slowly go away, the last sounds peter out, too, with a guitar and double-bass duo that say goodbye to the few present. We then walk towards the Pubatta nuraghe, behind us, and I look at the horizon satisfied, for having concluded another day in the spirit of sharing, of the art and riches of this land, both physical and spiritual.