INSPIRATION
Today it's all downhill! Although in Nule they told me (in a good way) not to stop in Benetutti (they tell me this in almost all the villages referred to the neighbouring village…ding dong, ding dong), I get here after just a few minutes of ruthless descent.
I contact Ines, who follows me on Facebook. She invites me to her mother's house, an old and nice lady, to have coffee and then bring me to the b&b Le Rondini where I will stay tonight, guest of Damiano, Mayor of Anela but originally from here, of whom I had the contact from Maria Luisa of Siniscola. I leave my luggage and we take the car to visit the domus de janas Luzzanas out of town. We drive along country roads and once we have parked the car we walk along a path that runs along the Tirso river.
We are in the middle of a valley, very green, and on the other side we can see all the villages of Goceano. We arrive right on the rocky banks of the Tirso, and not far away, on a small hill, is the site of the domus. There are two people. It's all covered in cables. We approach and Ines knows the woman, who explains that they are doing geophysical surveys on behalf of the University of Sassari, to detect further cavities in the rock. It seems that here there is much more than what has already been found. I go down into the entrance of one of the domus, the most important, and right next to the opening is an important symbol: a labyrinth. Unfortunately the ceiling of this cavity has partially collapsed so it is dangerous to venture further.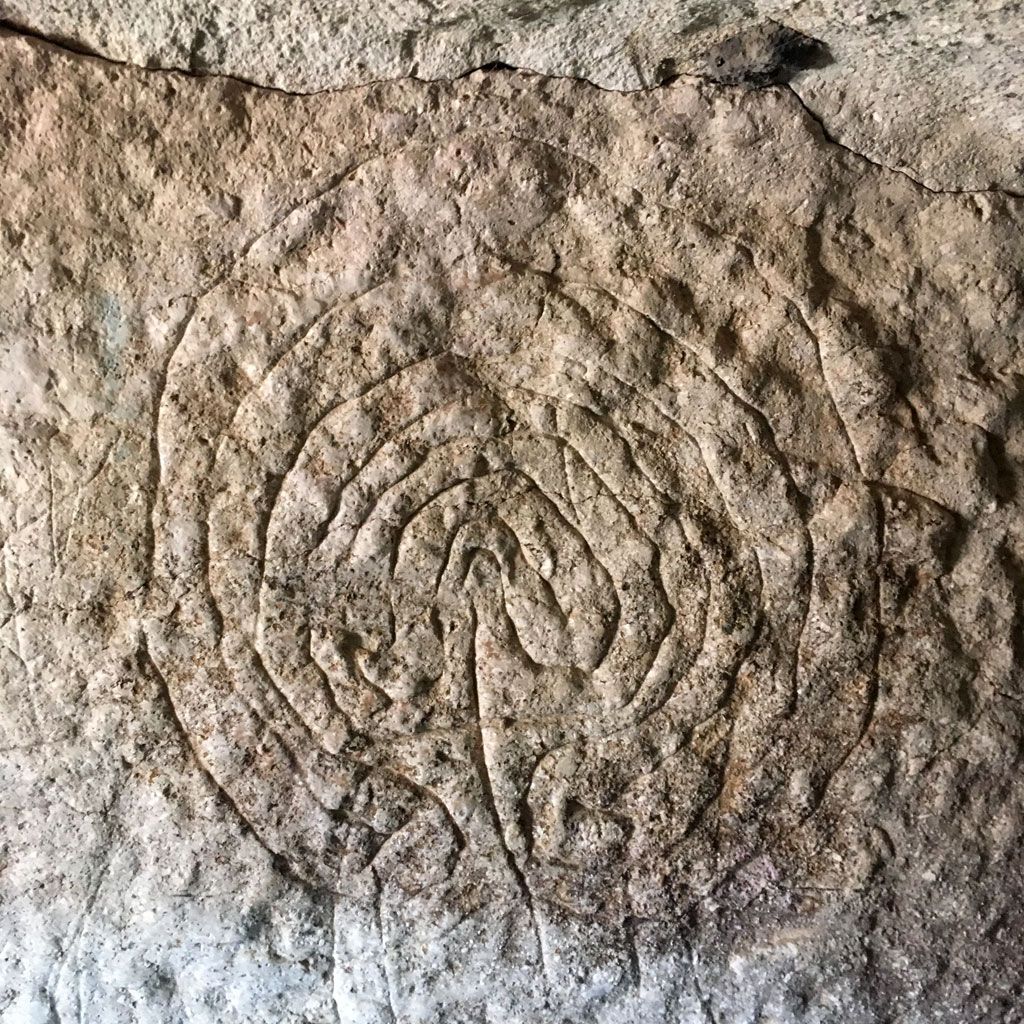 Back in the village Ines has to leave me. I organise a packed lunch and get ready to ride my bike to visit the spa area outside the village. It's several kilometres away, almost all of them downhill, returning to the Tirso valley. Along the main road is the Aurora spa which is closed, but what interests me is to see the natural pools. I notice some girls entering a field. I follow them and ask if they are going to the natural spas. They tell me yes. I follow them with my bike, crossing a very narrow bridge, and then jumping a small fence, always with the bike. We arrive at a granite sheepfold. In here, in an open area, there is a natural hot water basin. Today there is also the shepherd, Gesuino, who by now is used to seeing people coming in to bathe. "I came to see," I tell him. "Why to see? Dive in! "He replies. There are two tourists in, and the entrance is covered with a towel because, Gesuo tells me, they are all naked!
As the couple leaves, the four girls prepare to enter. I take some pictures and leave saying goodbye. From here I decide to break the rule and enter the neighbouring municipality of Bultei, to head to some other natural pools. I pass the church of San Saturnino, still belonging to Bultei, imposing above a small rise, and arrive at a point with parked cars. I understand that the pools are here. I enter a small path and see people in the middle of the fields. Even here there is a queue to get into the water. A group of ladies leaves after a while, and another group of girls prepares to enter. Again here I only take pictures and go away dry, finding the bike surrounded by curious calves!
The return to the village is all uphill. Arrived at the village I take a walk to photograph some glimpses. Many houses are in granite, some beautiful buildings, and then the churches, that of Santa Croce, with a beautiful garden and a vantage point in front of it, and not far away the church of Sant'Elena with its beautiful granite bell tower.
Two French motorcyclists stop and ask me if there is a b&b in the village. I take this opportunity to return and take them to Le Rondini, where they settle down. When they ask me if there is a place to dine I advise them to go to Nule for the Idda de Manos Bonas feast, which I attended yesterday. I go to bed early, after a good pizza, and I don't notice that at night it starts to rain a lot. The French will say to me that at breakfast in the morning, the came back late from Nule under the pouring rain!
SOUND FRAGMENTS
SHORT SARDINIAN STORIES
Among the people who saw all 377 municipalities in Sardinia, that I occasionally discover on this tour, there was one who was visible to everyone for quite a few years: Gennaro Longobardi. With his TV program "On the road" broadcast on Sardegna Uno TV channel, Gennaro interviewed locals, ordinary passers-by, gentlemen sitting on the country benches, people at the bar. Gennaro brought his sympathy, and often that of the Sardinians, to everyone's homes. Not only. After the tour of the villages of Sardinia, Gennaro made other programs, the circumnavigation of Sardinia on board the Coastguard Boats, and then he visited alla the clubs of Sardinian emigrant abroad. Looking at a bit of program from 1995, almost 25 years ago, I was able to see that the topics dear to the Sardinians are always the same, and not much has changed. For example, to the question "if you were all at once head of state, what would you do?" most of the gentlemen sitting on benches or at the bar answered "more work for everyone" and "cleaner roads" … it is the same old song that I'm hearing on my journey!