INSPIRATION
I leave Olbia, I should say reinvigorated by the days off but in which I actually had so much to do!
They have been holidays in the name of bad weather, furious winds with 'British rain', the catchphrase of this trip!
I leave the chaos of the city, I pass the sacred well of Sa Testa which I visited last night in the rain and in the light of mobile phones, and I set off for the coast. i meet two cyclists with whom I exchange a few words then I leave them to go and see the beach of Pittulongu, today not the best for the weather and the wind that still blows strong.
After a bit of up and down, I arrive in Golfo Aranci. I cycle along the seaside and contact Caterina from the Molara association who is a veterinarian here and who keeps my luggage for an hour. I take this opportunity to ride to Cala Moresca, in front of the islet of Figarolo. Behind me some old plants that I find out to be for lime production. I'm on the promontory that ends at Capo Figari. Here there are various trekking routes that can be tackled both on foot and by mountain bike, but unfortunately I have to get my luggage back soon and I won't have time to venture. It's a pity because I wanted to go up to the lighthouse, called Semaforo ('traffic lights'), where the first experiments and the first radio transmission were carried out by Guglielmo Marconi.
I pick up the baggage back and I call Renato, a contact that was provided to me by my friend Maria Antonietta who is taking care to help me in this area. Renato lives very close to the port, next to the abandoned railway line that continues beyond the train station. Renato invites me to lunch, and before eating he takes me to see the remains of a sacred well, on the railway and a stone's throw from his house. Then, while he cooks I take the opportunity to give a quick lesson on ukulele to his son Giovanni. The kitchen window overlooks the sea below, like a porthole, it feels like having lunch on a ship, if it wasn't that there is a ship moored right next to us!
I say goodbye to Renato, who gave me the contact of Elena and Marco who will host me later. I take a chance to take a ride on the seafront and admire two beautiful sail-shaped sound sculptures by Pinuccio Sciola. Then I decide to venture out of the village, in the area that faces the other side towards the Gulf of Marinella. I go up to see the country church of Nostra Signora del Monte from where you can admire an incredible view towards the beginning of the Costa Smeralda. Then I go down to a corner of paradise: the Baia de Bahas, a small promontory surrounded by rounded granites surfacing from the sea. I take a few steps on the fine sandy beach and enjoy the wonderful view before returning to the village.
Before meeting Elena and Marco, I take a tour in the historic part of Golfo Aranci, small houses that were once the nucleus of the Ponzese fishermen's village, arrived from the Island of Ponza, off Naples. In these streets a permanent photographic exhibition has been set up with the photographs of Marianne Sin-Pfältzer, depicting corners and characters of Golfo Aranci. It is late, I finally meet Elena and Marco who take me to their home where we have dinner and chat about this and that. And thanks to Marco's accent, he's from Cabras and has a strong Campidanese accent, I feel a little less alien in this part of Sardinia, where the way they speak has by now become Gallurese and there are more and more continental accents!
SOUND FRAGMENTS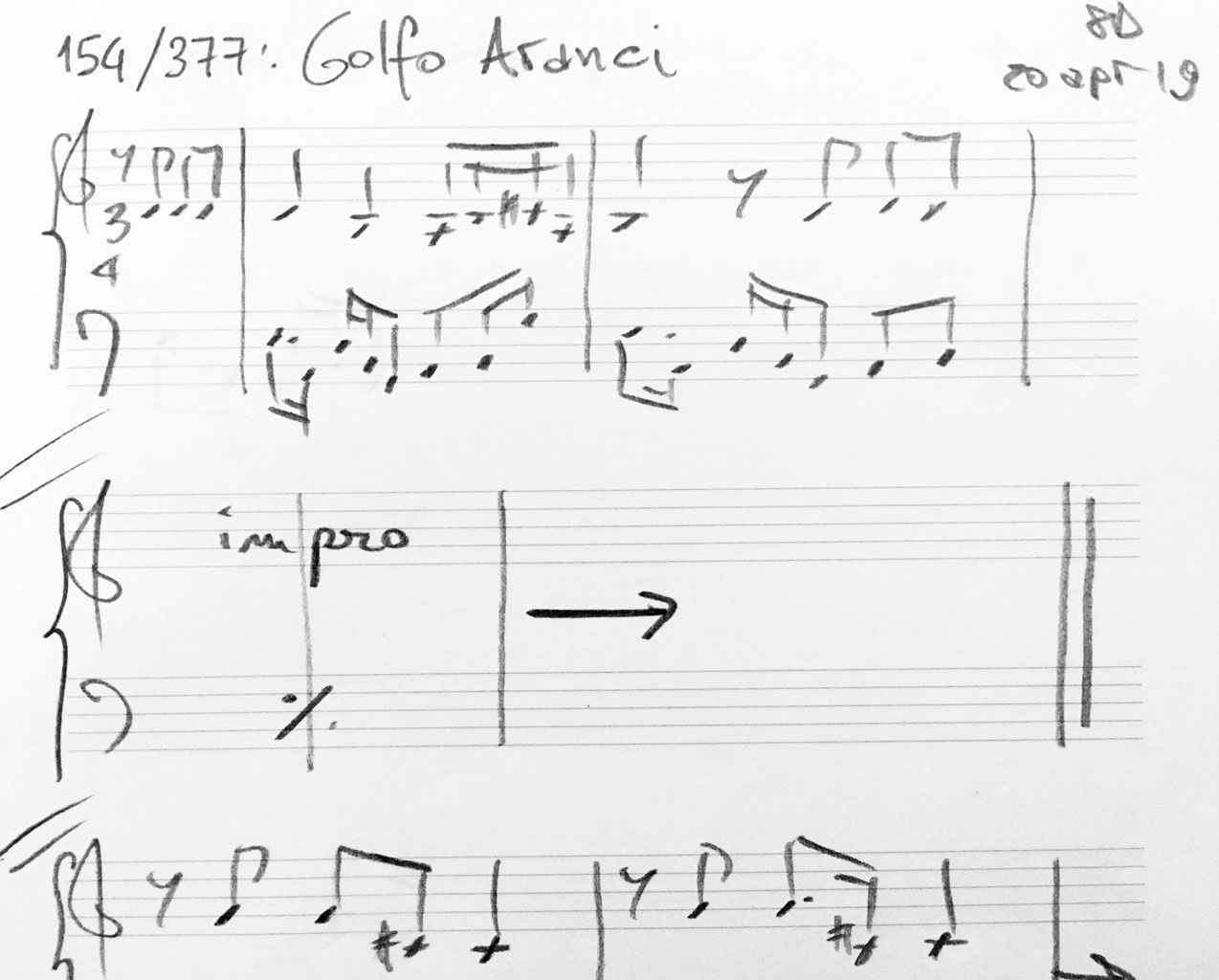 SHORT SARDINIAN STORIES
Marianne Sin-Pfältzer. Another one of those foreign people who gave so much to Sardinia. Today, I admire her photos here in the narrow streets of Golfo Aranci, and then I discover that they have set up an exhibition also in the streets of Oliena. Marianne was German, arrived as a young woman in Sardinia, then returned on several occasions to move here permanently, and sadly to find her death in Nuoro after being hit by a car.
Marianne has immortalized people and moments of Sardinia in her beautiful photographs, in black and white but also in color. A feminine look, very sensitive to the human stories of this island, from the post-war period onwards. As I have already told for the photographs by Bavagnoli in Loculi, Marianne also immortalised scenes of a Sardinia of other times, with a certain attention to simple people. Fortunately, part of her work, like that of Bavagnoli, was published by Ilisso in the volume 'Paesaggi Umani'.