INSPIRATION
Today I take it easy, I leave late and cycle the 10 km on ups and downs, in the midst of flowering broom and granite. On my right the panorama extends to the coast, just like this municipal territory with a double name. I pass a couple of fractions and after a brow I catch a glimpse of Olbia, immense, and a ship leaving the port. As for Oristano, I have the feeling of getting closer to a huge metropolis.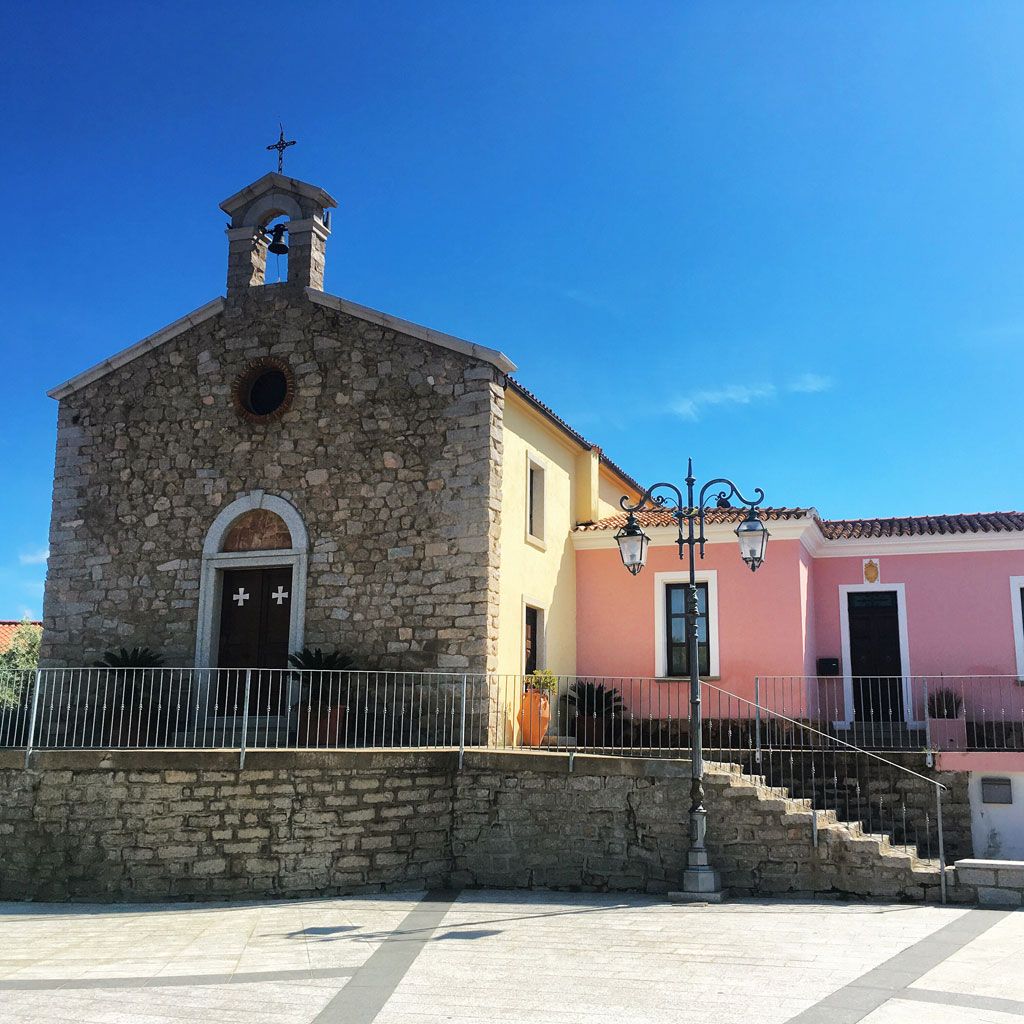 Then I arrive in Loiri, a village that seems to me quite recent. I go to the small church square, modern but in beautiful granite stone. And all around there are small, well-restored houses, the old centre of the village. Shortly after I meet the Mayor Francesco who illustrates this vast territory, on the outskirts of Gallura, nestled in the hills, and then shows me some beautiful photos in the council chamber and advises me on the best roads to take to get to the coastal part.
I set off from Loiri to descend to the hamlet of Castagna, where I will stay tonight as guest of Councilor Matteo in the b&b Domo Minnannu Miriu. I leave the bags and take the bike to reach the coast. I cycle for a while parallel to the 131DCN motorway and arrive at the hamlet of Santu Juanni, with the beautiful little church of Santa Giusta, then continue, crossing other hamlets in a continuous up and down, until finally, beyond a hill, the island of Tavolara appears.
I pass the hamlet of Vaccilleddi and shortly after arrive at the beach of Porto Taverna. A paradise. There is no more to add. I enter the beach restaurant and have lunch with an exceptional seafood pasta. And with the spectacular view I decide not to move from here. I do some work. Then the mayor joins me for a coffee.
It gets late. I cross the beach, and then the beautiful lagoons on a long wooden boardwalk, and I head towards Porto San Paolo. I arrive in the centre, along the piers and boats and I stop for a moment at the beautiful little square in front of the sea. Not far from here boats leave for the islands of Tavolara and Molara … which I will try to visit during my Easter stay in Olbia.
It's time to go back to Castagna. Today I did about 50 kilometers, between climbs and descents. The full moon illuminates the path to go down to the pizzeria in the petrol station, right on 131DCN motorway. And I think of how far it is now that I ate at the restaurant at the legendary Oasis 101, on the 131 (different from the DCN) in Tramatza!
SOUND FRAGMENTS
Uphills and downhills
SHORT SARDINIAN STORIES
Graphic Novel No.1: "It's all downhill" or "People's objectivity", Part One.