INSPIRATION
The next two stages, Goni and Ballao, were reversed at the last moment. The problem of having made the itinerary on paper is that I did not have complete knowledge of the roads in terms of climbs and descents. After Silius I had planned Ballao and Goni, but some local villagers had warned me 'are you crazy? do the opposite'. So today I go to Goni, which is at high altitude (while Ballao is below). The road is on a slight slope and crosses a very desolate territory. There is a lot of wind and I have to take a hard climb. Immediately after I get to the junction for Goni, and I begin the descent.
Before arriving in the village, I stop at the archaeological site of Pranu Muttedu, where Alessandra and Giampiero are waiting for me to visit this magical place. Here there are testimonies of the pre-nuragic era, of the Ozieri culture. A series of menhirs appear to my sight, all lined up. I remember the site Biru 'e Concas seen in Sorgono, the only one that has something similar. But there is a huge megalithic tomb near here, surrounded by various concentric circles of stones. The area was a large necropolis, but also a cult area. All around there are many other burial spots, and the area is rich in oaks.
I say goodbye to Alessandra and Giampiero and fly down to the village. Goni is the second place I visit after Perdaxius whose patron is San Giacomo and which is part of the path of Santu Jacu. I settle in the bnb of Cecilia, and I am joined by Erika who will accompany me throughout the day. After saying hello to the Mayor and the Deputy Mayor in the Town Hall, we go to visit some important sites in the area. We climb the mountains behind the village and arrive at a site of domus de janas (house of fairies, tombs). From here you can see all the other side down to Lake Mulargia, full of water as they have never seen before.
Not far from here a very steep road leads us to the nuraghe Goni, well preserved, which tower hover over the surrounding area. The last stop is of geological-palaeontological interest, the Graptoliti Park, in a small climb called Via dei Graptoliti. Since I was a student of geology I heard about this place that I had never seen, important because it contains an outcrop of Silurian rocks rich in these fossils that appear as white strips with a serrated edge, which were species of marine worms.
In the afternoon, after a nice lunch at Erika's house with her parents, we head to the elderly center where I tell my adventure. Lorenzo also joins us, a good launeddist and accordionist with whom we play. After the meeting we take a walk through the village, located in a small valley that reminds me a bit  of Fluminimaggiore, where I admire the houses of schistose stone and the old wooden portals.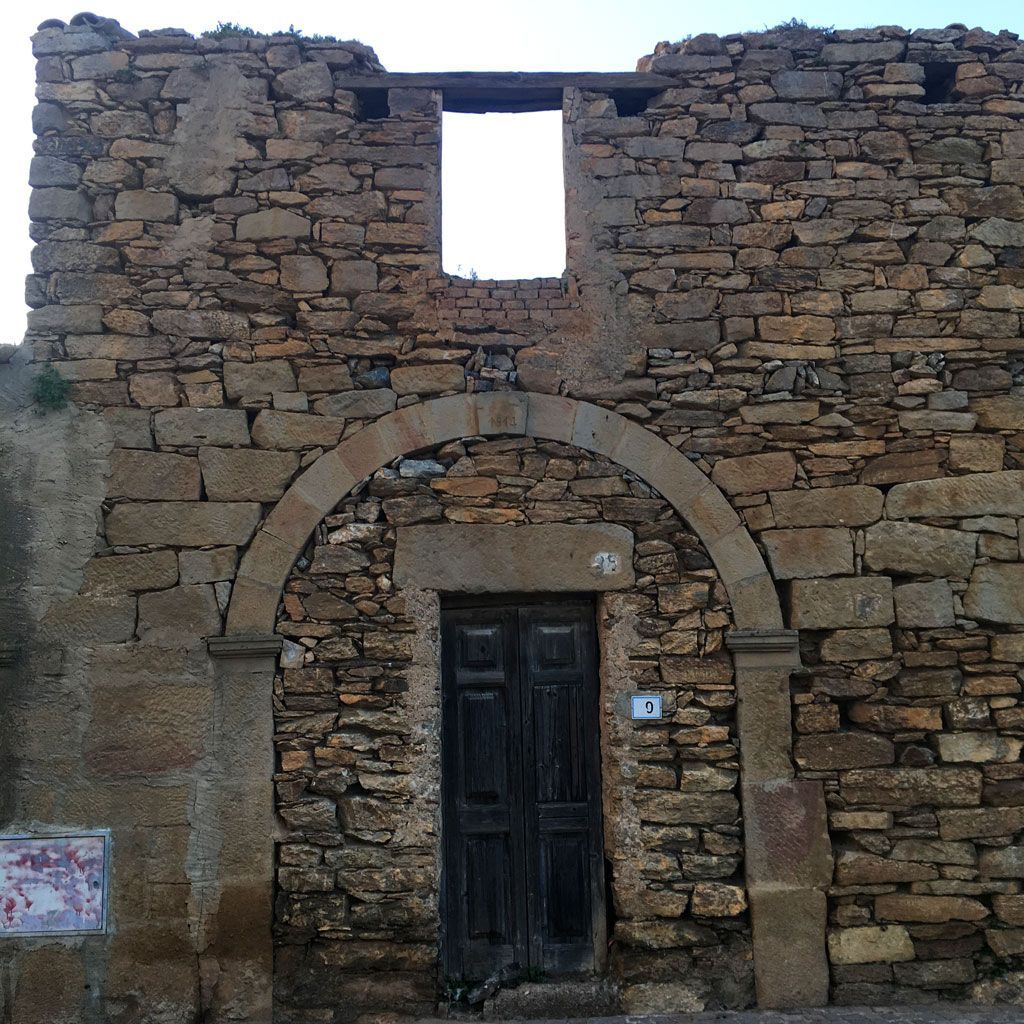 We end the day with a dinner at Erika's house, where we also meet friends Debora and Pietro, who provide their street food, the sheep's meat sandwich, Matteo, and Lorenzo the launeddist. Before dinner I take the chance to watch Erika's mother preparing the dough for bread, with hypnotic movements. At dinner we eat sandwiches, meat and cheese, and after dinner, with Erika's dad who is now a shepherd for passion after he lost his job at the mines in Silius, we talk about milk, which in these days of protests by Sardinian shepherds, is the topic of the moment.
SOUND FRAGMENTS
SHORT SARDINIAN STORIES
Pietro, shepherd, and his partner Debora decided to reinvent themselves a trade using the knowledge and resources of sheep. They got a small loan to open a business and created Da Pié, a van that sells local street food. The highlight is the sandwich with sheep meat, with or without cheese, which we ate for dinner. Pietro, Piè, is critical in the use of a spicy sauce prepared by Debora, he says that it takes away a little flavour, but I found the product very good, both with cheese and with sauce! With the van, Piè and Debora started to drive around Sardinia, chasing parties and festivals, and it seems that it works. Thanks Piè and Debora for your quality food!
At dinner there is also Matteo (who I discover is Giampiero's son, the guide from this morning). Even Matteo has taken a small loan to open a business, and so today in Goni, a village of 480 inhabitants, there is a mobile phone repair center. I take this opportunity to ask for advice on my iPhone that since I updated has started to give me battery problems. Unfortunately, there is not a real solution, but Matteo gives me good advice on what NOT to use, for example the use of the power bank that destroys the battery life, or advises me never to consume the battery up to 0% . Thanks Matteo for your advice!